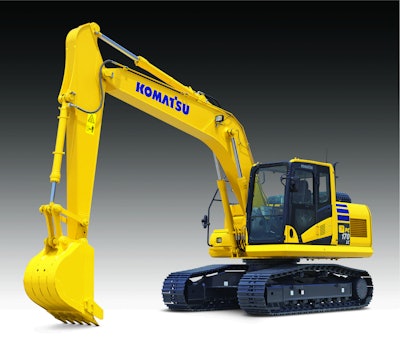 Komatsu America Corp. has added an excavator to its line up.
The PC170LC-10 excavator has been added to the dash-10 series.
With operating weights ranging from 38,100 to 41,600 pounds, the PC170LC-10 provides up to 5 percent more lift capacity with the standard counterweight, while an optional heavier counterweight provides up to 15 percent more lift capacity when compared to the previous model PC160LC-8.
The lighter counterweight machine can be hauled on a 40,000-pound tag-along trailer.
The machine offers a net 115HP at 2100 rpm, yet it is up to 10 percent more fuel-efficient than its predecessor.
Power and Control
All of the excavator's major components including the engine, hydraulic pump, motors and valves are manufactured by Komatsu. This integrated design employs a closed center load sensing hydraulic system. Built on Komatsu's Tier 3 technology, the SAA4D107E-2 engine provides lower emissions and lowers fuel consumption.
Variable speed matching allows the engine speed to adjust based on the hydraulic pump output for both light and heavy-duty applications, while low speed matching utilizes a larger pump capable of producing higher pump output at lower engine speeds.
Operation
The PC170LC-10 does not have a scheduled replacement interval for its Komatsu Diesel Oxidation Catalyst (KDOC). The KDOC integrated design allows this system to remove soot using 100 percent "true passive regeneration" without the need for a Diesel Particulate Filter (DPF).
Serviceability
The excavator is equipped with the Komatsu EMMS (Equipment Management Monitoring System. EMMS also monitors many critical systems, as well as the planned maintenance schedule, and provides troubleshooting assistance to minimize diagnosis and repair time.
Fleet Monitoring System
The PC170LC-10 is equipped with Komtrax technology, which is integrated with Komatsu's Tier 4 technology and sends machine operating information to a website.
Operator Use
The cab of the PC170LC-10 has a high-resolution 7-inch LCD color monitor that displays information in 25 languages for global support. The working modes include Power Mode, Economy Mode, Heavy Lift Mode, Breaker Mode, Attachment Economy and Attachment Power. The monitor panel also provides Eco Guidance (operational efficiency guidance), operational records, fuel consumption history and utilization information.