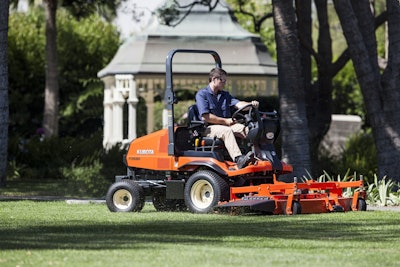 Kubota has introduced a series of front-mount diesel mowers.
The F90-series is made up of three models: the F2690E, F2690 and the F3990.
The F3990 is a four-wheel-drive model with 39 horsepower at 2500 rpm.
The series features a Kubota diesel engine that delivers 25.5 horsepower to the F2690E and F2690.
Each F90-Series model has a single-speed pedal hydrostatic transmission allowing for directional changes and varying.
Each model has a 16.1-gallon fuel tank, and Auto-Assist four-wheel-drive that works in forward and reverse.
The Series' PTO shaft drive offers a smooth transfer from the engine to the deck and other PTO-driven attachments.
The heavy-duty commercial mower deck comes with an improved baffle to prevent cut grass from discharging to the front, and a larger discharge chute for better discharge performance.
The side or rear discharge mower is available in 60-inch and 72-inch widths and both tilt up 90 degrees.
The F90-Series features a steel mower deck with a 6-inch deep design.
The series can use a grass catcher, snow blower, rotary sweeper, debris blower, front blade and the 100-inch flex mower deck.
Operators will find a tilt steering wheel and adjustable, high back seat, plus a large operator platform and ergonomically placed levers.
As for maintenance, the series offers a quick-release engine cover and 90-degree tilt mower deck.