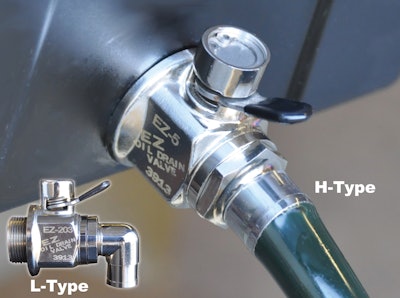 Global Sales Group has introduced an improved engine oil drain valve for equipment.
The EZ Oil Drain Valve replaces traditional oil drain plugs for oil changes.
Features include:
Ball valve mechanism for leak-proof operation
Nickel-plated for protection
O-ring seal for sealing ability
Plastic lever cover for open/close
Once installed, the user turns the lever to drain the oil. Once the oil is drained, the user then turns the lever back and it locks closed.
A hose may be attached to the hose end to drain the oil away from the engine. An L-shaped hose end is also available for tight area applications.