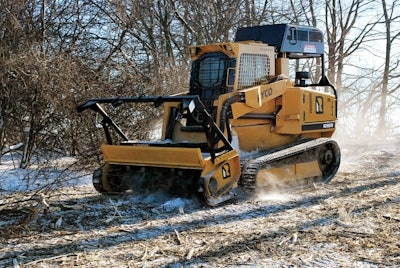 Rayco has introduced a forestry mulcher that features rubber tracks.
The C100R Forestry Mulcher rides on a 17.7-inch wide, steel-imbedded rubber track.
The machine is powered by a 99 horsepower Kubota diesel engine and features Rayco's Super Flow closed-loop hydrostatic system.
Featuring a heavy-duty rear door and hydraulic winch, the machine also has an elevated cooling design, which places engine radiators in both the rear of the engine compartment and in the limbriser.
The cab is certified ROPS/OPS/FOPS with escape hatches in the roof and rear window.
Features include:
99 horsepower Kubota diesel engine
Super Flow, closed loop hydrostatic mulcher head drive
Rubber tracks, 17.7-inches wide, steel imbedded
Two-Speed ground travel
Elevated cooling design
Hydraulic rear winch
ROPS/FOPS/OPS certified cab
Rooftop and rear window escape
Predator mulcher head