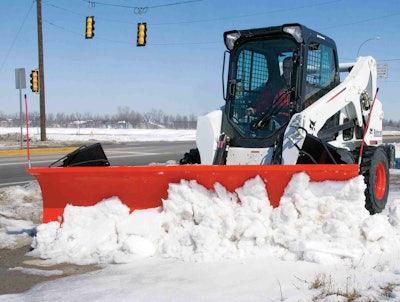 When it comes to working in cold conditions, no one likes it – including your skid steers.
However, according to the Bobcat Company, skid steers are some of the most common pieces of machinery used in the wintertime.
Because skid steers have the capability of using multiple attachments, they can be used in snow removal operations.
Beyond following the regular maintenance guide when it comes to skid steers, Bobcat has put together a list of tips on how to keep skid steers running all winter long.
Fluids, oils and fuels
Some of the most important winter checkup items are a skid steer's fluids. If a skid steer doesn't have the proper engine oil, engine coolant, hydraulic oil and fuel for operating in colder weather, an operator will find that his skid steer's performance isn't up to par.
For example, when the temperature turns colder it's important to have an engine oil viscosity that matches the outside operating temperatures and a low-temperature grease for proper lubrication on pivot points.
Do not overlook the hydraulic oil filters, which should be changed as they may have collected water and debris over the spring and summer. Changing the hydraulic oil filter will help minimize future maintenance problems says Mike Fitzgerald, loader product specialist for Bobcat Company.
As with any automobile, engine coolant — or antifreeze — is also an important wintertime fluid for compact equipment that should be tested according to manufacturer's specifications prior to the weather turning chilly.
Not only can improper oils and coolants cause maintenance problems in the winter, but so can using the wrong fuel. While it's typically not required to use anything other than normal No. 2 grade diesel fuel, operations in far northern regions may want to consider an alternative diesel fuel. In extreme cold weather conditions, diesel fuel can gel.

Treat attachments equal
A skid-steer's attachments are the tools that deliver the versatility needed to remove snow and ice from sidewalks, parking lots and trails. Attachments such as snow blades, snowblowers, angle brooms and spreaders are some of the most popular and hardest-working tools in the winter months, and deserve the same attention as the machine itself.
Visual checks of attachment components such as hoses, cylinders and guards, auger flighting and teeth, cutting blades and edges can help determine if wear is developing or damage has occurred. Some attachments also require fluid-level checks and lubrication.
Tires, batteries and other items
It's common knowledge that when temperatures drop, so does the air pressure in tires. One of the first physical signs of cold weather will be a skid-steer's sagging tires. Low tire pressure can translate into lower lift and push capabilities, especially for those rental customers who intend to use the skid steer for clearing snow. Those responsible for fleets should check the owner's manual for the proper psi and inflate the tires accordingly.
Downtime is unavoidable if you have a dead battery. There's nothing worse than needing to quickly respond to a snow or ice storm in which the public depends on clean public walkway or roadway, only to find that it won't start because of a dead battery.
Cold weather plays havoc on batteries because it requires them to generate nearly twice as many cranking amps in order to turn over and deliver oil to the engine. That's why fleets in colder climates go through batteries faster than those in warmer climates. So, it's imperative that they take the time to have a load test performed on their compact equipment batteries before the first snow hits the ground. They should also check the battery wires and connections for any wear or corrosion because such defects could result in loss of amps.
Once you've made sure your skid steer fleet will perform at its optimal level in the winter, you'll next want to ensure the operator's comfort features are working properly. Features popular on skid steers in northern states include heating, defogging and defrosting systems. To keep operators comfortable and productive, inspect each system and perform routine maintenance as specified in the owner's manual, Fitzgerald says.
Also, inspect the cab's door and window seals to ensure heat won't seep out, and install a new windshield blade and antifreezing washer fluid. Snow removal operators can spend as many as 12 hours a day inside the cab of a skid steer, so it's vital that they stay warm and comfortable.