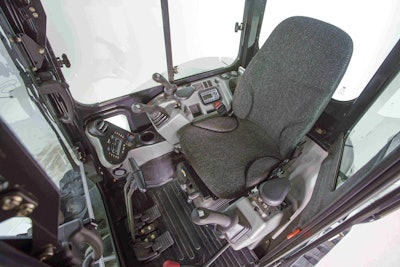 When Bobcat released four Tier 4 excavators, the machines featured a forward-mount instrumentation system.
The forward-mount instrumentation system is available for six existing models of compact excavators.
The instrumentation panel and control switches have been designed to be in front of the operator. The previous instrumentation panel required the operator to turn to the side to engage the panel's input switches.
From the operator's viewpoint, the location of the panel also aligns with the existing cab components and work group structures to maintain visibility to the attachment.
Other features include:
The auxiliary hydraulic paddle switch is live when the console is in the lowered position, eliminating the need to activate the auxiliary hydraulic mode switch

New joystick switches to improve the boom swing and auxiliary controls: 

– Improved paddle profile
– Reduced spring pressure on paddle switches
– New auxiliary detent switch profile
New cup holder available forward of the operator, as well as a cup holder located to the right of the operator

Storage cubby located to right of the operator

When equipped with the radio, it is installed to the right of the operator as opposed to its previous location on the rear panel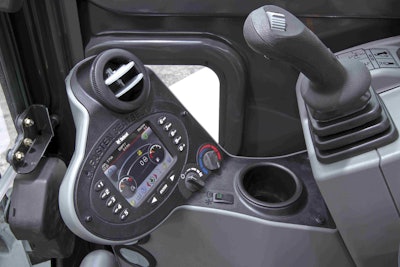 Featuring multi-lingual functionality, the panel can analyze user statistics and integrated attachment controls, vitals and diagnostics. The system can also capture individual fuel usage and real-time fuel consumption, as well as idle-time data.
The 5-inch, full-color LCD screen enables monitoring and interaction of multiple functions and visibility to several features:
Seven languages, including French

Eco-mode for up to 8 percent in fuel cost savings

Ability to customize auto-idle delay to suit operator preference. Choose from between 4 and 250 seconds

Attachment-specific operation tips to optimize productivity and versatility

Enhanced engine and hydraulic system information to simplify checks of machine status

Owners and operators now have three choices relative to keying the machine:

1. Standard panel with key

2. Standard panel with keypad for keyless start, which includes provisions for one programmable owner code

3. Instrumentation panel with integrated keyless start, which includes provisions for one owner code and up to eight user codes