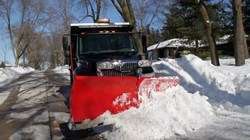 Project EverGreen's SnowCare for Troops is helping active-duty troops overseas for its fourth straight year.
The community-based program provides free snow removal services to troops in deployment and is open to military families nationwide. Boss Snowplow also underwrites the group.
The SCFT campaign currently has about 3,750 families and 1,400 volunteers signed up to participate in the program nationwide.
Project EverGreen matches registered military families with local volunteers to provide free snow removal services.