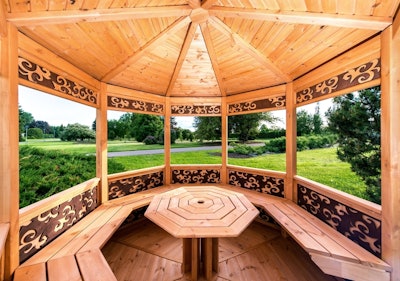 Public green spaces are essential for every community. However, many towns leave their smaller areas empty and unused (or underused) because they have trouble figuring out what to do with them. While it is not always as easy to landscape small spaces as it is to landscape large spaces, it is worth the effort.
Here are a few tips for working with small-space landscapes that will create areas the community can use and enjoy.
Before you begin designs for the small space, there are a few key elements to consider:
How will you maximize building design, architecture, scale and proportions in order to create interesting and appealing experiences?
How will you accommodate both

multiple uses and multiple users

? For example, how can community members access the space? Can they get there via walking, biking and/or public transit?
How will your space use, protect and promote the environment and other natural features?
Use of color
Select bold, bright colors and position them so the public sees them right away. When bright colors catch people's attention immediately, the rest of the landscape appears to recede, giving the illusion that the space is bigger than it really is.
Create a view or frame
A small landscape takes on a grand aesthetic with a simple view or framing. Pergolas and arbors are both popular options. In lieu of a larger frame, you can even use small trees, shrubs or pieces of garden art.
Make it cozy
When working with a small space, consider how to do the most with the existing plot instead of trying to transform it into something different. Small landscapes are perfect for intimate atmospheres. For example, you can create a private area for a garden with tall plants and thick shrubs around the perimeter and enough space for a walkway and a comfortable seating area or a small pergola.
Select small plants
Alternatively, if you are interested in making the area look larger instead of cozier, select smaller plants. In this case, you don't want the plants to fill up the entire space. Take care to choose plants that will not grow so big that they eventually take over the area. If your landscape design team is fond of using particular large plants, consider smaller versions of them or other plants that offer similar aesthetics.
Choose interesting pavement stones
If you have a walkway in a small-space landscape, make it unique and attractive. People will look at the walkway instead of focusing on the size of the space. There are a wide variety of pavement designs available, and you can mix and match different materials.
Create a seating area
As you survey the area, think about locations that would be ideal for seating. Look for areas where you will not waste any of the precious space. A corner or an area off to the side may work well and yet leave ample room for a walkway and multiple flowerbeds. As long as there is a bench or a handful of chairs, people will understand the invitation to sit down and enjoy the space.
Maximize the power of perspective
Long, nearly parallel lines can make a space appear larger than it actually is. You can take advantage of this option by slightly slanting the far end of the lines toward one another. For example, install a low split-rail fence and then place a row of large shrubs on either side of it. You can also have the perspective lead to an appealing focal point or destination such as a water feature or a bench. It doesn't have to be elaborate to be attractive and inviting.
Break up the space
This may seem like a counterintuitive measure, but when you break up the open areas of a small space, it feels larger. Be creative with the groupings and divisions.
Park architecture
Don't forget to think about park architecture elements. Many people overlook these options for smaller spaces simply because of the space constraints. While there may not be room for a large playground or softball field, think about putting in a small covered picnic area or other covered shelter such as a gazebo. Well-designed park architecture in a smaller space maximizes the potential of the area for a larger part of the community.
EDITOR'S NOTE: This article was written by Jeff Caldwell. Caldwell is brand manager of Litchfield Landscape Elements in Carrollton, Georgia. Accepting shelter design challenges from designers, landscape architects, and architects around the world, Litchfield Landscape Elements creates custom shelters, gazebos and pergolas specific to outdoor needs.