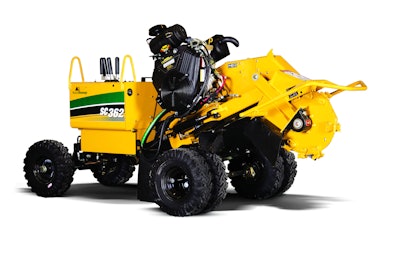 Vermeer has introduced a high horsepower machine to remove stumps.
The Vermeer SC362 stump cutter is equipped with a 35 horsepower (26.1 kW) Vanguard gas engine and belt-driven cutter head.
The self-propelled machine features a hydraulic drive system and front-wheel steering, as well as a two-speed ground drive system.
The 50-inch wide cutter has a cutting width of 47 inches and can include an optional AutoSweep system that monitors engine speed as well as automatically adjusts the cutter wheel sweep rate.
A 17-inch (43.2 cm) cutter wheel is equipped with the Yellow Jacket cutter system, which features universal and reversible carbide-tipped teeth, with two cutting edges on each tooth and more side pocket clearance.
With two cutting edges on each tooth, the tooth and pocket are designed so the second edge is protected and clear of the primary wear area while cutting with the first edge.