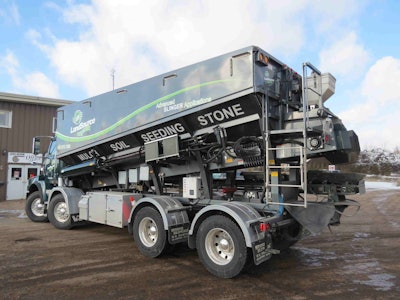 One business is breaking ground with innovations to help the landscaping business up north.
Andy Crocket with Landscape Organix created a customized conveyer truck 13 years ago, which helped change the landscape business in Ontario. Now, Crocket is at it again.
"When I started with my four trucks, I had the business to myself," Crocket says. "Now there are a half-dozen businesses operating about 30 blower trucks in Ontario. I have to keep looking for new ways to be competitive and stay ahead of the pack."
Crocket has added a new innovation to his fleet: a 40-yard conveyor truck that he had custom built last year by the originator of the Stone Slinger system, W.K. Dahms.
The Stone Slinger is typically used to launch a stream of aggregates or soil into place from its hopper body at ranges of up to 100 feet. However, Crocket had something else in mind for the machine.
"The Stone Slinger costs about half as much as a blower truck," Crocket says. "It made sense to me to use a slinger-type of truck as the delivery tool, so my blower trucks can continue operating without being interrupted to reload with material."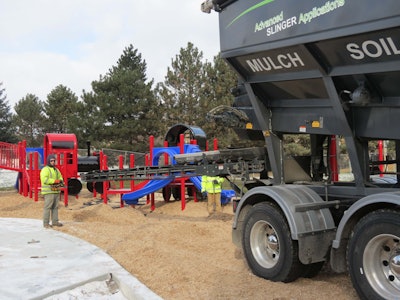 To make the Stone Slinger fit his particular needs, Crocket met with Scott Nelson of W.K. Dahms in St. Jacobs, Ontario.
After Crocket presented his requirements to Nelson in the Fall of 2012, he ordered a new Western Star power unit in the Spring of 2013 to become the platform for his Stone Slinger. About six weeks later, Dahms delivered the custom unit.
As far as specific requirements, Crocket asked for a deeper box to carry 40 yards of material to match the capacity of the blower trucks. He also asked to extend the discharge conveyor to reach the edge of the blower body.
However, the greatest challenge for Dahms' team was to add a seeder system that injects seed into the material stream as it exits the truck and then incorporate the seeder into the Stone Slinger's remote control electronics.
By using CAN Bus Technology, the machine can support remote control for the conveyor and drive systems, as well as remotely operate the hydrostatic drive.
Nelson and his team reworked the CAN Bus control system so Crocket's operators could operate the seeder with the same remote control package. They also developed an extra wide feeder belt to increase the Stone Slinger's discharge rate and further expand the range of products that can be handled.