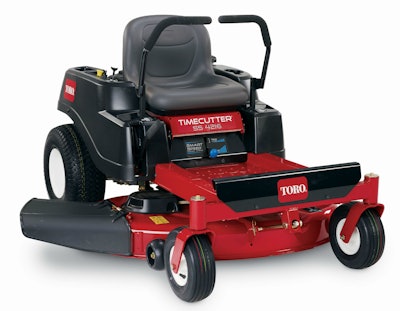 Toro has updated its 2014 TimeCutter lineup to help landscapers on the job.
The company's TimeCutter SS and TimeCutter MX zero-turn mowers each have a tow hitch, which gives the ability to tow a Brinly-Hardy cart, lawn sweeper, sprayer, aerator or dethatcher with Toro's Tow Mode.
By using the Smart Speed feature, the TimeCutters can choose the ground speed range to fit the mowing and towing needs: Mow & Go or Trim & Tow.
Features of the TimeCutter SS include:
An automatic parking brake that automatically engages whenever the control arms are in the outward position
10-gauge frames
Toro, Kohler Kawasaki engines
Engine guards, deck washout ports and foot assist height of cut adjustment (optional on some models)
Extra-tall seats on most models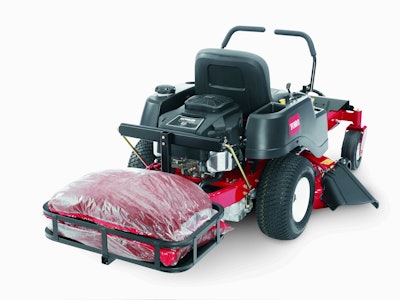 Features of the TimeCutter MX include:
A height-of-cut foot assist pedal
Kawasaki V-Twin engine
An hour meter
Extra-tall seats with armrests
Floor mat
Several new models can be found in the lineup this year, including:
A TimeCutter with a 32-inch deck and one with a 42-inch deck
A Kawasaki-powered TimeCutter with a 42-inch deck
Toro will also be featuring the Kohler 7000 series v-twin engine on one of its models.
The company has also added two accessories. The first is a step-assist kit featuring a telescoping handle and a build-in step to help get on and off the mower. The second is a cargo carrier that attaches to the rear bumper of the TimeCutter. It allows the operator to haul up to 100 pounds of mulch, soil, garden tools or other objects.