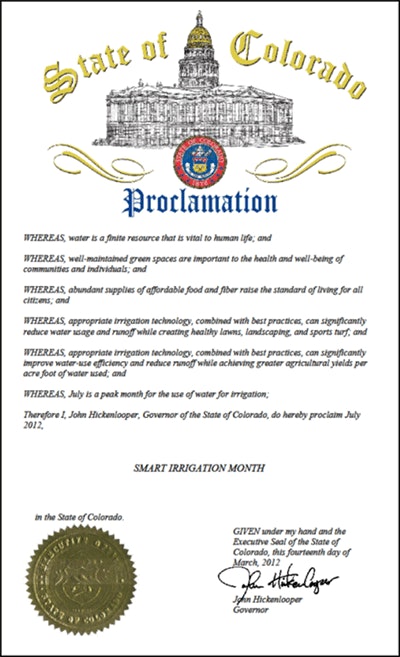 The Irrigation Association's Smart Irrigation Month Committee recently held its first webinar.
The webinar detailed methods of how to obtain official proclamations declaring July 2014 as Smart Irrigation Month from state and local governments.
Lowell Kaufhold, chair of the Smart Irrigation Month Committee and president of CPS Distributors has been involved in this initiative for four years and has successfully obtained state proclamations from both Colorado and Wyoming.
For those who didn't attend the webinar, Kaufhold gave a few suggestions on how to submit a proclamation for review:
First contact IA to obtain the appropriate language for the proclamation.
Next, explore the state's website to see if there is a process in place for submitting proclamations. The process of obtaining a proclamation varies from state to state.
Next, revise the sample proclamation language and submit the document to your state as required. The wait time for a final decision concerning the status of a proclamation also varies, so start early spring and follow up with a phone call to the state capitol to confirm receipt.
If the proclamation is approved, the state will often issue an official document that can be either mailed to your organization or picked up in-person at the state capitol by an organization representative.
For more information about Smart Irrigation Month proclamations, contact Lowell Kaufhold at kaufholdl@cpsdistributors.com or IA Senior Marketing Manager Noreen Rich at noreenrich@irrigation.org.