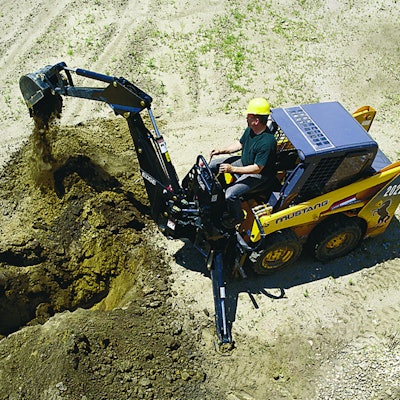 CEAttachments has introduced Edge Backhoes and Buckets for skid steers and track loaders.
Three Edge Backhoe models feature a mono-block style valve with higher-rated spool seals to prevent valve leakage from high back pressure.
The models also feature Grouser-style stabilizer pads as standard equipment.
The Edge BH509B, BH511B and BH611B join the BH485 model with the 180-degree boom pivot rotation. The digging depths of the Backhoes range from 9 foot 8 inches to 11 foot 1 inch, and digging forces from 5676 to 6200 pounds.
Five Edge excavator-style Buckets are also available for these Backhoes.
The Edge Buckets come in 12-, 16-, 18-, 24- and 36-inch sizes with capacities ranging from 1.25 cubic foot to 4.05 cubic foot capacities.