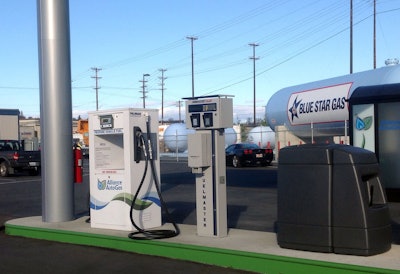 The state of Washington will be making a name for itself in the propane world.
The state will soon be home to the nation's largest privately funded propane autogas public refueling networks, as well as the largest installation of alternative fuel infrastructure in the Pacific Northwest.
Blue Star Gas funded and spearheaded 11, 24-hour public refueling stations in the Puget Sound region.
The refueling stations, similar in operation to traditional gasoline filling stations, will serve more than 400 customer vehicles in the Pacific Northwest. These customers can gain access to the pumps 24/7 via a card-reading system, which also enables users to track fuel savings and miles-per-gallon usage.
Fleets in the area can contact a local Blue Star Gas fleet specialist for access to the stations and training on safe refueling.