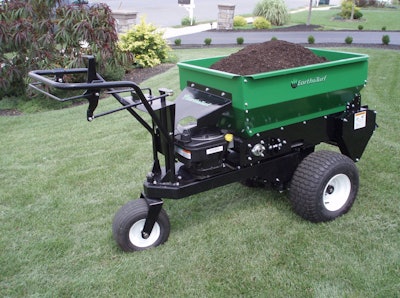 Earth & Turf Products has introduced a self-propelled topdresser.
The Model 60SP is ideal for spreading dry or wet compost and sand, as well as a variety of other materials.
The machine features a 6.7 cubic-foot hopper and a maximum load weight of 650 pounds.
Optional loading chutes are available to increase capacity for lighter materials.
A beater produces a spread pattern up to 42 inches wide.
The 60SP is powered by a 190 cc Briggs & Stratton, 875 series, 6.5 horsepower engine and is driven by a CV belt, forward and reverse.