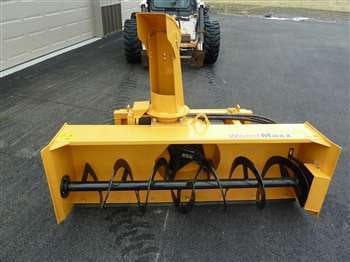 WoodMaxx is offering a selection of snow blower attachments.
A PTO snow blower comes in a variety of sizes, and landscapers should consider the width and depth of the cutting unit to determine the machine's suitability for their needs.
Smaller PTO snow blowers require 18 to 30 horsepower engines while the larger 72-inch models may require 25 to 65 horsepower.
The skid steer snow blower is also available in different sizes.
The attachment comes equipped with a hydraulic motor and can be used with a number of skid steers.
WoodMaxx offers a line of replacement parts that are ready to ship when ordered, including skid plates, bolts and hoses.