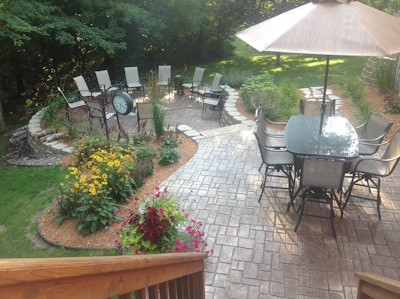 A pair of Wisconsin contractors diversified their business to not only survive but also thrive.
Adding on services is nothing new for ­landscapers, but in a lot of cases, they only expand to keep their business afloat – not to make it thrive.
But that isn't the case with two contractors I visited in January. Dan Thiel and Steve Mueller, owners of J&S General Contracting in Osceola, Wisconsin, haven't let their short work seasons and bitter winters slow them down.
Not only do they offer landscaping, excavation and concrete work, but they expanded their list of services to include playgrounds for schools, pools, selling hard goods such as rocks, hauling materials for railroad companies and constructing an athletic facility for a local high school. (To hear their three tips for landscapers just starting out, click here.)
Their work at the high school ended up being their largest job to date: a $3.2 million project. "We try to have one good anchor job for the year," Mueller says.
The contractors also widened their service radius from 30 to 60 miles when the economy started to struggle. Their business is also one of the few construction companies left in their area – but they've done a lot more than just survive. Since 2006, they've experienced a 360-percent growth.
"By having a broader base of services, we run a turnkey business," Thiel says. "We're a one-stop shop. Clients can just turn to us for everything."
While offering a variety of services can set your business apart from the competition, it's important to not overextend yourself. You need to be an expert on all you offer, so don't add services at random or too quickly.
Hear what else they did to grow their business by watching the video below.
[youtube hnCcwA9eTik nolink]