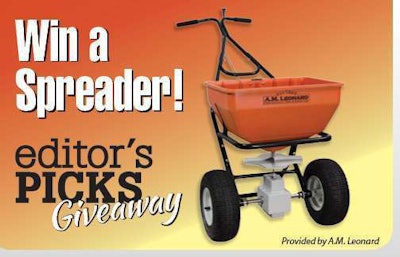 Everyone can always use a free piece of equipment, right?
As part of Total Landscape Care's Editor's Picks Giveaway, entrants will have a chance to win a 70-pound spreader from A.M. Leonard.
The spreader features a powder-coated, stainless-steel frame and 13-inch tires.
Users can apply turf fertilizer, pre-emergents, ice melt and seed with the spreader.
Enter before April 16 to win this spreader and join the rest of TLC's Editor's Picks Giveaway winners!