Landscapers have found a variety of ways to make landscapes sustainable or "green".
However, having the knowledge and tools makes a sustainable project successful.
Whether rainwater is collected from a roof or a land area, it is saved for future purposes such as irrigation.
To help with the harvesting process, MasterShield allows landscapers to collect water in a rain barrel or cistern to be used later.
The company has also provided a few facts from the Environmental Protection Agency in regards to water:
The average American citizen uses 400 gallons of water per day; 30 percent of this is used for outdoor purposes.
Washing a car uses 50 gallons of water per wash
Watering a lawn uses 300 gallons per watering
The United States uses approximately 346 billion gallons of fresh water every day.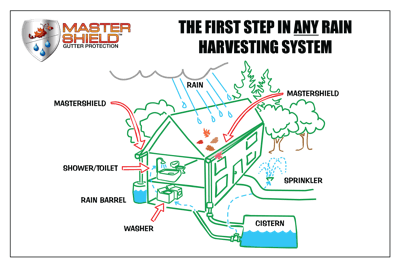 Water can be collected through the company's gutter protection system, which is recycled content of more than 95 percent in the aluminum and at least 30 percent in the stainless steel.
Harvesting rainwater can also help with stormwater runoff.
"According to the EPA, polluted stormwater runoff affects the habitats of plants, insects, animals and people— our entire ecosystem, in fact," MasterShield's site states. "In early 2010, the EPA started soliciting input into how they could reduce stormwater runoff in areas of new development and redevelopment so they can implement, no later than November 2012, national rulemaking to strengthen the stormwater program."
Benefits of harvesting rainwater:
Rainwater is slightly acidic, thus better for your plants.
Capturing rainwater helps mitigate storm- water runoff that can pollute waterways.
It typically saves clients money on water bills.
Reduces flooding and erosion.
It is a component of LEED certification.
Harvesting rainwater provides a water source for landscapes even when water use is restricted.