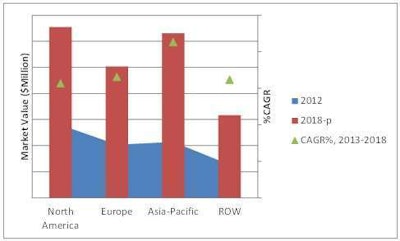 The micro irrigation system market is on the rise.
According to the latest report, "Micro irrigation System Market by Type (sprinkler, irrigation systems, drip irrigation systems), by Application (agriculture irrigation, landscape irrigation, greenhouse irrigation) – Global Trends & Forecast to 2018", the micro irrigation system market was worth $1,650 million in 2012. However, that number is expected to reach $4,213.4 million by 2013, growing at CAGR of 17.5 percent from 2013 to 2018.
The report includes driving and restraining factors for the micro irrigation system industry, as well as detailed analysis trends, opportunities and challenges part of the research.
The growth is largely fueled by the growing water scarcity concerns, as well as resource and yield optimization.
The report shows that North America is the largest market for micro irrigation systems and is the starting point for technological innovations for micro irrigation systems.
Through increased awareness to water management techniques and resource management efficiency, there has been an increase in massive demand for micro irrigation systems.
The full report is available for purchase.