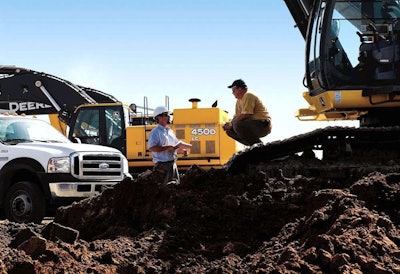 "The No. 1 thing our customers ask for is uptime," says Mark Germain, director of customer and product support, John Deere Construction & Forestry. "If they're not working, they're not earning."
Which is the main impetus behind one of Deere's primary thrusts at ConExpo 2014, its Ultimate Uptime customer support system. The new system offers what Deere says is exclusive technology and the ability to customize it to each customer's needs.
The Ultimate Uptime Base package, which is included with most Deere machines, includes pre-delivery set up and follow-up inspections, and includes three years of the company's WorkSight's features, including:
JDLink Ultimate telematics, alerting customers and dealers of hours, location, geofencing, diagnostic trouble codes and maintenance tracking.
Machine health prognostics that analyze data from JDLink, including fluid analysis and machine inspections, keeping both the dealer and customer in the loop with recommended solutions.
Remote diagnostics and programming, enabling dealers to read and reset diagnostic trouble codes, record machine performance data and update software remotely.
Germain offered the example of a grader with a minor engine issue. The issue is diagnosed remotely and the dealer is notified about its exact nature, enabling the dealer service technician to bring the right parts on a service call, bypassing the initial diagnostic trip.
Under the Ultimate Uptime umbrella, exactly what information and services will be included is a matter of customer choice. "Every customer and job is different," Germain says. One customer might require maintenance and repair agreements, while another would want extended warranties and response time guarantees.
Taking a deeper dive after the press event, Domenic Ruccolo, senior vice president of sales and marketing, said the Ultimate Uptime thrust pertains primarily to the Deere machines in a customer's fleet, although a mixed fleet solution is coming.
Addressing telematics specifically, while acknowledging telematics adoption remains low among contractors, Ruccolo says, "once you get the opportunity to put it before them, they tell us they wish they had known the impact of having that information." And contractors who have implemented it — liking the competitive edge — are not broadcasting how much it has helped their operations.
Organized under a "Building. Together." theme, the John Deere booth will showcase several new products:
Tier 4 Final upgrades on the 624K, 644K and 724K four-wheel-drive loaders, which also now include axle improvements for increased durability, offering standard axle cooling and filtration. Axle oil is continuously filtered
The company's ejector scraper line has been updated to include two tire and larger capacity models for 2010DE and 2412DE units, meeting the need for contractor who want to move more with faster cycle times. The units can come with several hitching and attachments options, including integrated push block, a Quik Attach Hitch, and spill guard.
Other models on display were introduced earlier, including the Tier 4 Final G-Series Motor Graders and mid-frame E-Series skid steer loaders and compact track loaders.