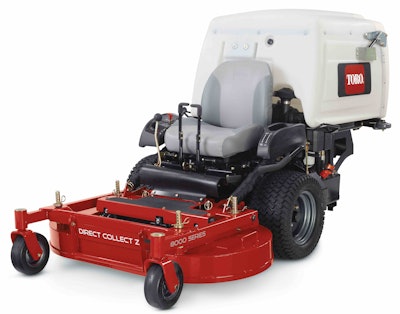 The Toro Company is providing more options for landscapers this mowing season.
The company has expanded its zero-turn mower lineup to include 8000 Series Direct Collect Z mowers.
The mowers feature a high-capacity hopper with a blower, as well as a rear-discharge design to allow for trimming on both sides of the deck.
The 8000 Series Direct Collect Z is equipped with a large-diameter blower that generates more airflow.
Patented adjustable flow control baffles help fill the 9.5-bushel (76-gallon) hopper evenly from back to front. In addition, the two-blade cutting system has a higher blade tip speed to cut grass into finer particles.
Operators can choose between 100 percent bagging, 50 percent bagging/50 percent mulching or 100 percent mulching.
The machine can travel at forward ground speeds of up to 7mph and has a 7.5-gallon fuel tank.
The mowers are available with 42-inch or 48-inch cutting decks that are 4-5/8-inches deep and construction of welded 7/10-guage steel.
The height-of-cut can be adjusted from 1 inch to 4 inches in .25-inch increments. Models are equipped with either a 20.5 horsepower* Kohler Command Pro or 23 horsepower* Kohler Command Pro EFI engine.
The 8000 Series offers optional accessories, including a light kit, powered dump, snow blade or snow blower, mulch kit, dump tubs and suspension seat.
*The gross horsepower of these gasoline engines was laboratory rated by the engine manufacturer in accordance with SAE J1940. As configured to meet safety, emission and operating requirements, the actual engine horsepower on these mowers will be significantly lower.