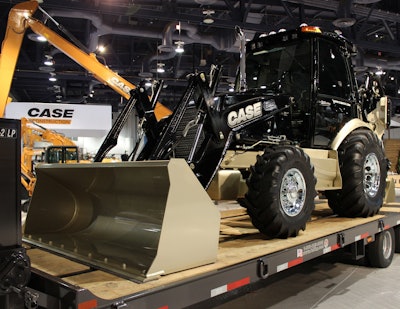 Case Construction Equipment unveiled a one-of-a-kind piece of equipment at ConExpo this past week.
The company showcased its Ram Laramie Longhorn-inspired 580 Super N Wide Track backhoe loader, which features the notable Ram Laramie Longhorn two-tone black and white gold paint scheme.
The backhoe will tour the country at Ram-and-Case-sponsored events with a Ram 3500 Laramie Longhorn Crew Cab 4×4 truck.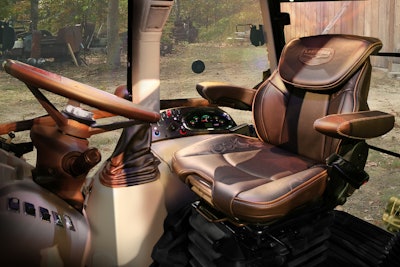 The backhoe also features a detailed cab design to match the look of the Ram truck interior.
The 580 Super N Wide Track features a 3.4-liter, turbocharged 95-horsepower engine that burns cleaner while delivering up to 5 percent better fuel efficiency under load.
This backhoe delivers increases in breakout force, lift and reach when compared to previous models.
As for the Ram 3500, the truck claims a 30,000-pound trailer capacity with the help of a 50,000-pounds-per-square-inch steel frame.
The truck features an improved transfer case, a higher-load transmission and an upgraded 6.7-liter Cummins Turbo Diesel engine with 850 foot-pounds of torque.
The Ram 3500's Gross Combined Weight Rating (GCWR) — which is defined by the maximum combined weight of the truck, payload and trailer — has been raised to 37,600 pounds.