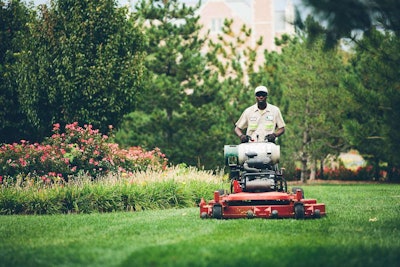 For landscapers thinking about switching to propane, there can be a lot of "do's" and "don'ts" floating around.
For those who are considering the switch or even in the process, there are a few things to keep in mind before, during and after the switch.
Starting out
Before anything else, a landscaper who is considering propane should find and establish a relationship with a local propane provider.
"Propane retailers can quickly answer questions, assess existing equipment to determine whether new or converted propane equipment is best, determine refueling needs, and help landscapers take advantage of all of the incentive programs available," says Jeremy Wishart, director of off-road business development, Propane Education & Research Council.
One of the biggest mistakes landscapers make, according to Wishart, is trying to switch to propane without any help.
"Don't try to go it alone," Wishart says. "Your local propane provider is there to help and can often take care issues that could derail your efforts if you were going solo."
A landscaper should consider converting three to five mowers initially, because operational savings come from multiple pieces of equipment operating on propane.
Propane can also be used in equipment besides lawn mowers.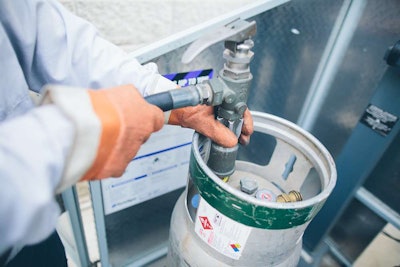 "Look at other areas where you can implement propane-powered equipment, such as a portable generator to recharge handheld battery powered equipment," Wishart says. "Integrating trucks and generators into your existing equipment creates the ideal one fuel solution."
When it comes to conversion kits, landscapers should trust EPA and CARB certified aftermarket kits, because they are developed specifically for particular mowers. By attempting to buy individual parts to fabricate one can lead to performance and reliability issues, as well as compromise the warranty on the machine.
As for refueling, landscapers' options will be determined by the gallon usage and the number of machines that run on propane.
"A cylinder exchange program is the most common and quickest set-up option, but a contractor using 5,000 gallons of propane or more per year may be a candidate for on-site refueling infrastructure," Wishart says. "Propane refueling infrastructure is also the least expensive fueling infrastructure to install of any fuel type, traditional or alternative. Consult with your local propane provider for specific details."
Common misconceptions
The Hollywood lights and reports from media outlets stating that propane is unsafe should not fool landscapers.
"As with any fuel, safe-refueling practices must be utilized when handling cylinders, but landscapers don't need to worry about puncturing the container or spilling fuel," Wishart says. "Propane cylinders are 20 times more puncture resistant than the standard gasoline or diesel fuel tanks found on most mowers today. Additionally, the propane fuel system and cylinders are a sealed system, virtually eliminating the possibility for fuel spills."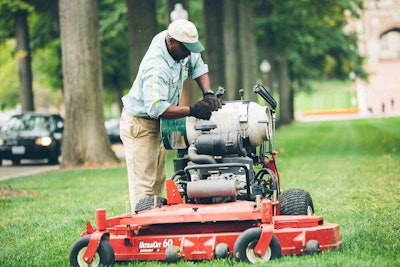 A propane mower fuel system operates typically between 65 to 180 psi. The cylinders are designed to withstand pressures of up to 1,000 psi.
Because propane is a gas, in typical ambient conditions outdoors (between 40 and 100 degrees Fahrenheit), small fuel spills will vaporize and dissipate immediately.
Gasoline and propane are similar in vapor form, because if propane leaks in an enclosed indoor space, it can form a flammable layer at ground level.
In the early days of propane, users had to decide between full-throttle performance or optimum fuel savings. However, times have changed, according to Wishart.
"Today, those factors are not mutually exclusive," Wishart says. "With newer technologies…an end user can experience the high performance they've come to expect with the fuel economy that is very competitive with their gasoline counterparts."
Mistakes to avoid
When converting to propane, a landscaper needs to think about the refueling needs as well.
Landscapers can solve the refueling issue by participating in a cylinder exchange agreement with a propane provider, or researching the local laws for zoning and permitting for an on-site refueling station.
Additionally, landscapers should avoid converting a single, rundown piece of equipment and expect to have a positive result.
"A poorly running mower on gasoline is going to run poorly regardless of the fuel, be it propane or any other alternative," Wishart says.
Even though landscapers may currently watch the market on gasoline or diesel prices, Wishart says avoid gambling on daily fuel prices when it comes to propane.
"Lock in your fuel price with a year, or even a few years, by entering into a contract with your local propane provider," Wishart says. "You'll get a better price, better service, and you'll never have to worry about running out of fuel."
Six steps to switching:
1. Establish a relationship with a propane-fuel provider in your area. Visit poweredbypropane.org to search using a zip code.
2. Assess the age and condition of your current equipment.
Determine if you're a candidate for new propane-powered equipment or an aftermarket conversion of your existing equipment.
When choosing new, research available equipment and determine if your preferred mower brand has a model available. More than a dozen OEMs now manufacture propane-powered mowers or EPA and CARB certified conversion kits.
Converting also requires research and consideration. EPA certified equipment is required for many incentive and/or rebate programs. Anti-tampering laws often prohibit the modification or removal of OE emissions reduction and fueling equipment. Additionally, engine and equipment manufacturers may void their warranty if unauthorized conversion equipment is installed. It's important to check with a specific manufacturer for details.
3. Consider applying for the Propane Education & Research Council's (PERC) Propane Mower Incentive Program (PMIP) before you realize the purchase of your new propane mower. This will ensure you receive the incentive for your purchase of a propane mower.
The PMIP provides recipients with up to $1,000 for a qualifying new OEM propane mower or $500 for a qualifying conversion of a gasoline mower to propane. A list of qualifying mowers and conversion kits is also available on poweredbypropane.org.
4. Research state incentive programs that may be available to you by contacting your local Propane Gas Association. A list of associations is available at npga.org.
Additional incentives at the local, state, or federal level can be found by visiting

dsireusa.org

.
5. Talk with your propane retailer about refueling options and determine the best option for your needs. Also understand local laws about handling propane. Laws pertaining to the use, storage, and handling of alternative fuels can vary by region, state, or even municipality. It's always best to check with your local authority having jurisdiction; however, a summary of state laws can be found at www.afdc.energy.gov/fuels/laws/3254.
6. Transitioning a fleet of mowers to propane can give you a competitive edge over competition. You'll be able to market your company's sustainability efforts to reduce greenhouse gas emissions, which is something customers are demanding and bids are requiring. Be sure to accurately track your fuel costs, run time, and maintenance schedules for your new or converted propane units against the data from your gasoline or diesel units.