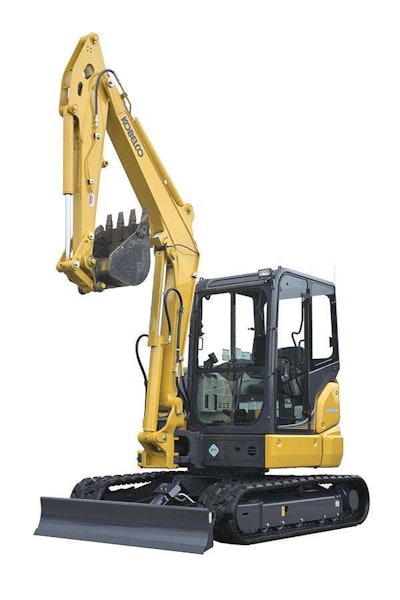 More than a year after ending its North American distribution and marketing agreement with CNH Industrial, Kobelco is waving an independent exhibitor flag at ConExpo for the first time in 10 years.
The company has aggressive plans for North America, building a headquarters in Katy, Texas, with plans to move in during September, and openly talking about building a manufacturing plant here that would serve both North and Latin America.
"The Kobelco success story has just started," says Jun Fujioka, president and CEO, Kobelco Construction Machinery. "It appears that 2014 will far outpace 2013."
Kobelco now has 58 dealers, including seven in Latin America, says Ron Hargrave, vice president of operations for Kobelco Construction Machinery USA.
"We wanted to come back to the show in a celebratory manner," Hargrave says.
At its booth, the company debuted the SK55SRx compact excavator.
Available in both cab and canopy models, the machine is powered by a 37.4-horsepower Yanmar engine, the 11,050-pound model features an energy conservation mode, which allows the operator to run at lower power and performance levels.
A one-touch deceleration button makes it easy to switch to an idling state, enabling a reduction in fuel consumption.
The machine has an arm force of 5,350 pounds and a two-pin bucket force of up to 11,128 pounds. The max dig depth is 12 feet, 10 inches.
Editor's Note: Marcia Gruver Doyle is Editorial Director of the Construction Division of Randall-Reilly