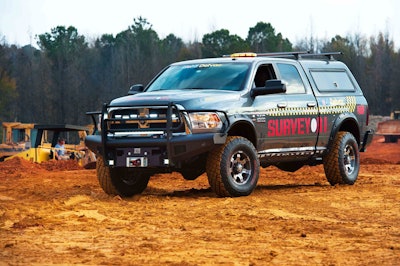 Our 2013 Ram 2500HD Crew Cab 4×4 – sponsored by Mobil Delvac and Ram Commercial Trucks – is finished and ready to be given away.
A year ago, we drove away from Locklear Chrysler Jeep Dodge Ram in Tuscaloosa, Alabama, in a brand new, base-model Ram Truck 2500 SLT Crew Cab 4×4 diesel with the intention of transforming it into a dream truck for a land surveyor.
Now, 12 months and a lot of shop time later, with the support of Mobil Delvac and products from a number of aftermarket manufacturers, "Surveyor 1" is done.
During that time, Surveyor 1 has logged more than 10,000 miles being driven to be displayed at numerous events for Mobil Delvac including the National Truck & Tractor Pulling Championship series events in the Midwest; the Great American Truck Show (GATS)/ProPickup Truck Expo in Dallas; and the Specialty Equipment Market Association (SEMA) Show in Las Vegas.
And by the time you read this, we'll be driving the Mobil Delvac Ram to The Work Truck Show and 50th Annual NTEA Convention in Indianapolis where it'll be on display one last time before the sweepstake's drawing in early April.
(Surveyor 1 sweepstake's registration forms are available wherever the truck is on display, as well as at hardworkingtrucks.com.)
Build overview
So what makes this Ram 2500HD special? It's tricked out to be a surveyor's rolling office.
Land surveyors don't always have the luxury of driving on nice roads and working in pristine conditions. Their jobs can take them to remote, and sometimes virgin, country where driving access can be challenging, to say the least.
They usually work in teams and carry a lot of surveying equipment that is fragile, expensive and cumbersome. The crew needs to be comfortable – and the equipment needs to be secure, yet easily accessible.
To that end, their vehicles are set a lot different from the typical contractor's truck like we've built in year's past. So is Surveyor 1.
Cummins power
Surveyors put a lot of miles on their trucks, and nothing handles miles better than a diesel.
The 370-horsepower 6.7L Cummins under the hood of Surveyor 1 delivers 800 pounds-foot of torque, which makes it ideal for both carrying a big load, as well as towing ATVS and side-by-sides surveyors use to get into the roadless areas.
We left the 4×4's engine stock because, even with the upgrades we've made that added about 2,000 pounds to its curb weight, it has plenty of muscle on and off road. We also wanted to keep fuel mileage maximized, which leaving Cummins stock does.
But we did add some extra pulling power – in the form of a 12,000-pound capacity Warn winch secreted behind a heavy-duty Fab Fours front bumper. We also replaced the lightweight Ram rear bumper with a heavy-duty Fab Fours' model.
More pulling power came when we ditched the stock tires and replaced them with a set of 35×12.50R17 General Grabber red-letter A/Ts mounted on Dick Cepek seven-spoke alloys.
That upgrade necessitated a Cognito 2-inch leveling kit up front to provide full fenderwell clearance.
Surveyor storage

With traction and pulling power addressed, we moved on to the most important aspect of Surveyor 1's build: cargo management.
We turned to A.R.E., the experts in bed caps and storage solutions, for help. They set us up with their ToolMaster bed cap and a custom-built Truck Vault Surveyor insert to handle the tools and equipment needs.
The topper has side storage compartments with LED lighting, and the rear lift-up gate has an aluminum insert instead of glass like the side panels and BOLT locks keyed to the truck's ignition key to ensure maximum security.
Truck Vault's Surveyor insert is built from high-density wood and covered with the same carpet material as used on the bed cap. It also features heavy-duty locks on the foot-deep, bed-length, slide-out drawers where the expensive equipment will be stored.
The lower compartments are also bed-length and set up to keep stakes, poles, shoves and other less critical tools and supplies within easy reach.
Safety in lights
With crew comfort, tool storage, power and traction concerns out of the way, we turned to the safety aspects.
Rigid Industries took the lead in lighting, setting Surveyor 1 up with the latest in LED lights front and rear. Their 30-inch LED light bar sitting on top of the Fab Fours front bumper brings daylight to the darkest road at night.
When the truck's low beams aren't quite enough to penetrate fog, snow or rain, Rigid's smaller square (D2) and rectangular (SR-Q2) LEDs, mounted low in the bumper, will handle the job.
Backing up at night poses no concerns, either, as the pair of Rigid's diffused-pattern SR-Q2s floods the area with daylight white light.
And if you can't see what's behind, Escort's Guardian Alert back-up sensor system provides audio alerts in the cab if any object gets closer then 8 feet of the rear bumper.
We also upgraded the rearview mirror to Escort's SmartMirror2 with its backup camera and built-in navigation system. (The camera is mounted in the tailgate under the Ram head.)
Emergency flashers, a must for survey vehicles, are in abundance courtesy of Buyer's Products; 16 5-inch, high-intensity, amber and white LED strobes let approaching drivers know Surveyor 1 is there. We also have Buyer's LED light bar on the roof as an added safety measure.
To make controlling all of the LEDs easy, we installed Buyer's pre-wired control box at the front of the Crew Cab's center console where access to the light switches is fast and intuitive.
Creature comforts
While we were in the cab, we slipped Marathon's Cordura seat covers on to protect the OE seats from spilled drinks and any mud and grime that the winner of Surveyor 1 might bring onboard.
Open any of the doors of the big Ram 2500 and AMP Research's lighted running boards power down to make step-in easy. Close the doors and they automatically tuck back up under the cab.
Surveyor 1 is also equipped with Amp's manual side steps that are conveniently located under each corner of the bed to make access to the rack on top of the A.R.E. topper easily accessible.
We also make use of Escort's passport iQ combo radar detector/navi unit. It's saved our bacon on many occasions as the big Ram has a tendency to move along at a brisk pace on the open road.
And when you are driving a pickup with the bold graphics, courtesy of the folks at Camoclad, that adds to the looks of Surveyor 1.
Driving quicker than you think is easy when your 4×4's stock suspension is beefed up with Hellwig rear sway bars and helper springs to make the extra weight it's carrying in the bed feel like its not even there.
Add in the comfort level already afforded by the stock Ram 2500 SLT, and you have a great work truck fit for any surveyor.
Are we pleased with how Surveyor 1 turned out? Absolutely. It's practical, provides excellent crew comfort, cargo management, ride, handling, safety and power in a package that turns heads.
The bigger question is: Will the winner of the April sweepstakes drawing love it as much as we do?
Supporting Sponsors
Amp Research; amp-research.com; 800-309-6823
A.R.E.; 4are.com; 330-8307800
Fab Fours Bumpers: fabfours.com; 866-385-1905
Transfer Flow; transferflow.com; 800-442-0056
BD Diesel; dieselperformance.com; 888-841-8884
Marathon Seat Covers; marathonseatcovers.com; 800-735-2769
Rigid Industries; rigidindustries.com; 480-655-0100
Escort Inc.; escortradar.com; 800-964-3138
BOLT Locks; boltlock.com; 877-251-8798
Lincoln Electric; lincolnelectric.com; 888-935-3877
Special Thanks: Warren Spears, Spears' Auto Repair, Long Beach, Mississippi; 228-863-1878