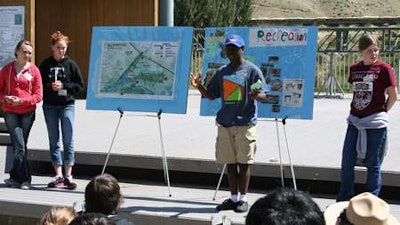 As part of National Landscape Architecture Month 2014, landscape architects will join nationally during the month of April to promote the landscape architecture profession to students, specifically underrepresented minorities.
With a 2014 theme of "Career Discovery," National Landscape Architecture Month provides an opportunity to show students what landscape architects do, according to Mark Focht, FASLA, president of ASLA and first deputy commissioner of Philadelphia Parks and Recreation.
This outreach includes a newly redesigned career discovery page for students and new education hub for teachers to be launched in April.
Landscape architecture employs just 21,600 people, according to the U.S. Bureau of Labor. In a recent ASLA survey of graduating landscape architecture students, nearly 84 percent of respondents were Caucasian, 12 percent were Asian or Pacific Islander, 6 percent answered Hispanic/Latino, 2 percent identified as an American Indian, while a mere 1 percent were African-American.
National Landscape Architecture Month also encompasses Earth Day on April 22, along with the April 26 birthday of Frederick Law Olmsted (1822-1903), the father of American landscape architecture and the designer of New York City's Central Park and other iconic landscapes.
In April 2015 it will be renamed World Landscape Architecture Month (WLAM), in recognition of the profession's global impact and to align with WLAM celebrations around the world.
Some of the events throughout National Landscape Architecture Month include:
Firm KTU+A will be sponsoring a "roundtable" discussion facilitated by The Daily Transcript in San Diego sometime in April.
Chapters will visit local schools and share personal career stories with students, and career introductory kits will be distributed to schools that do not have scheduled presentations.
A virtual celebration of Olmsted's birthday will take place April 25. Chapters will use social and traditional media to tweet, post and write about the value of landscape architecture for local communities. (#Olmsted).