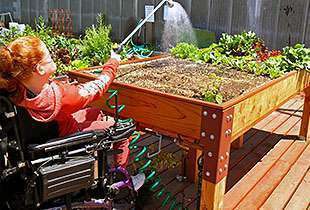 Two organizations are working together to show the importance of gardening in communities.
Troy-Bilt and Keep America Beautiful (KAB) are bringing back Taking Root, a gardening grant program.
The two organizations will award five KAB community groups a total of $25,000 in grants and up to $6,500 in Troy-Bilt lawn care products.
KAB-certified affiliates in good standing were invited to apply for the Taking Root grant for a garden-oriented or outdoor beautification project such as starting a community garden, implementing an education program or embarking on a cleanup effort.
Among the applications received, five finalists were selected.
The public is encouraged to learn about each project and vote for a favorite on the Taking Root voting site by May 25.
The organization with the most votes will receive a $12,000 cash grant, plus up to $2,000 in Troy-Bilt products. The finalist with the second most votes will be rewarded with an $8,000 grant and up to $1,500 in equipment and the finalist with the third most votes will be rewarded with a $5,000 grant and up to$1,000 in equipment. The remaining finalists will receive Troy-Bilt products.
The five finalists, in alphabetical order, are:
Keep Greater Milwaukee Beautiful, Milwaukee, Wisconsin
Keep Greenwood County Beautiful, Greenwood, South Carolina
Keep North Platte and Lincoln Co. Beautiful, North Platte, Nebraska
Keep Tampa Bay Beautiful, Tampa, Florida
Newport News Public Works Recycling, Newport News, Virginia
Voters also will be entered into a sweepstakes, accruing one entry per day, to win a Lowe's gift card and a cash donation on their behalf to a KAB affiliate. The prizes and donations will increase in value as the total number of votes increase.
Taking Root voting will close at 11:59 p.m. EDT on May 25, and the winner will be announced on or around May 27.