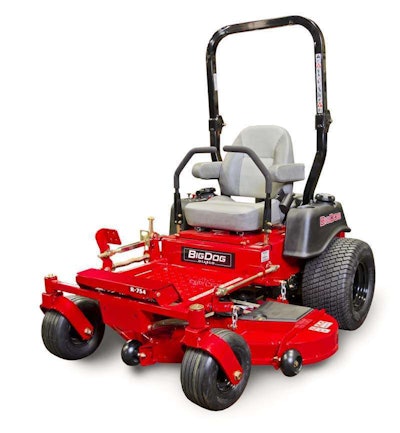 BigDog and Hustler riding mowers are being recalled.
The seat switch can fail to detect that the rider has left the seat, which allows the mower to continue to operate.
The BigDog mower is red with a grey seat and a black roll bar. The words BigDog Diablo are printed below the front of the seat and on the sides of the mower.
The Hustler mowers are yellow with grey seats. The Hustler mowers have "Hustler" on the front of the footrest and say FastTrak, FastTrakSD or RaptorSD in red on the yellow bar below the front of the seat. The FastTrak and FastTrakSD mowers have a black roll bar.
The recalled mowers have serial numbers between 13082168 and 14012774 for the BigDog R Diablo, between 13081106 and 14013675 for FastTrak, between 13081129 and 14013689 for FasTrakSD and between 13081376 and 14013882 for Hustler RaptorSD.
Currently, no injuries have been reported. TEST