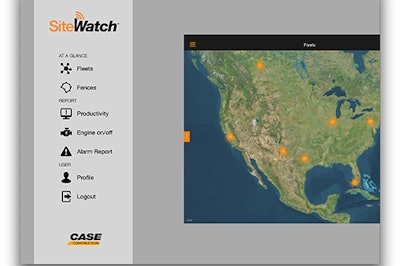 Case Construction Equipment has introduced the SiteWatch app for the iPad.
The SiteWatch iPad app provides actionable information to help manage fleet maintenance, optimize machine performance/utilization, lower fuel consumption and idle time and lower total operating costs.
Among its features, the SiteWatch app provides the ability to:
Review fleet details and locate machinery
Review and create geofences
Check utilization and working status durations (idle status, high-workload status, etc.)
Review the status of alarms received within a selected time period
Review and analyze fuel consumption
Monitor machine health through the report of key parameters set within the web application
SiteWatch employs an onboard communication device that monitors the machine's CAN-bus network and transmits data to a designated user's web portal.
The SiteWatch iPad app is available through the Apple iTunes store.