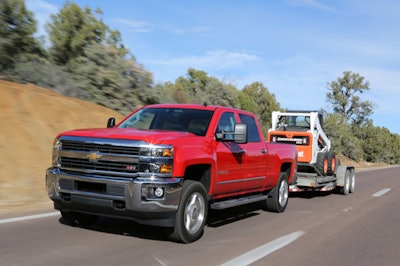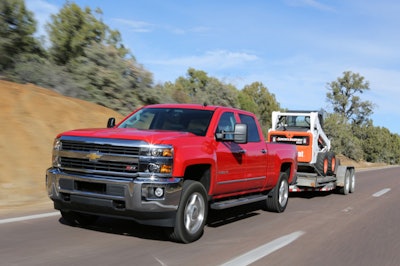 10 tips to help ensure your trailered equipment gets to the jobsite – and back – safely
Trailers, like any other tool, including your tow vehicle, succumb to wear and tear with time.
The key to keeping them safe and reliable is taking the time to do a routine walk-around inspection of the most problematic areas — and fixing any issues found before they turn into bigger problems.
At minimum a trailer used for work should be inspected at least twice a year; the start of spring and the beginning of fall are good times as those are key transitional periods in both work and weather.
But a prudent business owner that has trailers being pulled every day should make it a point the driver of the tow vehicle do a trailer check walk-around at least once a week to keep potential problems minimized. Daily inspections are even better.
Here are 10 areas that need to be checked off as part of regular trailer preventive maintenance:
1. Hitch & coupler – Hitch mounts and the trailer ball take a beating. Check to make sure all frame mounting bolts are tight and there are no visible cracks anywhere on the receiver, shank or tow ball. Check the trailer coupler to ensure the jaws fit tight over the tow ball, and the safety latch is pinned to keep it from accidentally flipping open in transit. Lube wear points as needed.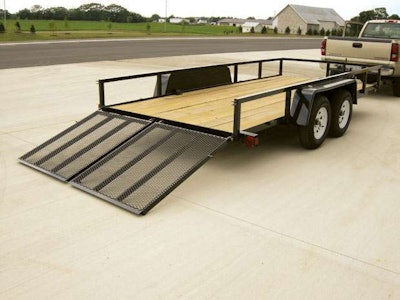 2. Trailer plug – Light wiring connections between tow vehicle and trailer are also wear points. Check both receptacle and plug for loose, frayed or broken wires. Repair or replace bad connectors. Clean plug pins and receptacle with spray-on terminal cleaner and coat plug ends with dielectric grease to slow or prevent corrosion. Check under-trailer wiring as well.
3. Trailer lights – Make sure the trailer turn signal and brake lights work properly. Use a test tool to make the check easy for one person.
4. Breakaway battery – If your trailer has electric brakes instead of surge brakes, test the battery for the breakaway system to make sure it's charged and in good condition. Also make sure the breakaway switch is in good shape.
5. Tires – Over- or under-inflated trailer tires wear out more quickly than properly inflated ones and are much more prone to catastrophic failure. For maximum tire life, inflation pressures on both tow vehicle and trailer should be checked and adjusted monthly. Also check tread depth and evenness of wear, and lug nuts for proper tightness.
6. Brakes & wheel bearings – Good trailer brakes are essential for towing safety. Even though the tow vehicle supplies primary stopping power, the trailer's braking system contributes significantly in emergency situations. Good trailer brakes also reduce wear on the tow vehicle's brakes. Check wheel bearings and replace/repack at lest twice a year.
7. Safety chains – Carefully inspect the trailer's safety chains/cables. Make sure the chain links are not worn or damaged. The old "S"-hooks should be replaced by quick-links that have the thread-on connection.
8. Trailer jack – The trailer jack is used heavily, so it should be inspected for wear and lubricated several times a year with a light marine grease. If the jack is hard to use, electric replacements are readily available.
9. Springs & axles – Two of the most overlook items on trailers are the springs and axles, which take the brunt of a trailer's abuse. Inspect the springs, axle(s) and brackets for any signs of damage. Repair/replace as needed. Check mounting bolts for proper tightness. Bent or misaligned axles will eat up trailer tires.
10. Winches & tie-downs – Finally, it is a good idea to check the condition of any winches used to pull equipment onboard. Frayed winch cables should be replaced and solenoids cleaned. Any bent or damaged tie-downs should be replaced or repaired. Decking bolts or screws should also be periodically retightened.
If you make this an annual routine at the beginning of spring and fall, or take the time to perform the above maintenance routine at the beginning of each new work day, you can rest assured there will seldom be a job cut short due to a trailer malfunction.
EDITOR'S NOTE: Bruce Smith is a Senior Editor at Randall-Reilly.