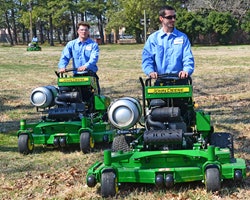 One U.S. Lawns franchise is making the switch.
The Hampton Roads, Virginia-franchise conducted its Field Day for its employees, which included a safety training by PAPCO to help kick off the mower fleet conversion to propane.
John Deere dealer East Coast Equipment partnered with U.S. Lawns in Hampton Roads to convert their mower fleet to propane.
Additionally, Virginia Beach, Virginia-based PAPCO will lease 72 propane lawnmower cylinders and cabinets for U.S. Lawns' 16 propane-powered John Deere mowers, in addition to providing ongoing propane supply.
As part of the conversion, PAPCO General Manager Peter Ryan conducted four 30-minute sessions of Propane 101 Training for U.S. Lawns' employees.