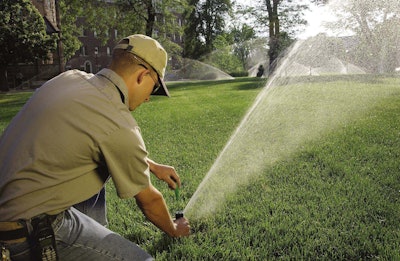 Spring will turn into summer before you know it and that means it's time to talk irrigation.
Landscapers can get ahead of the game by preparing early and researching the best irrigation practices in the industry.
To help, Rain Bird put together six tips that can help irrigation professionals not only save water this summer, but also save time and money.
1. Encourage customers to upgrade to controllers that respond to weather and soil conditions. Today's smart irrigation technology can help your clients use up to 30 percent less water, and there's an option to fit every budget. Upgrade your customers' systems by adding a rain sensor or a smart controller. Not only are these smart options more efficient, they can take much of the guesswork out of irrigation scheduling by factoring in actual weather conditions.
2. Choose pressure-regulating rotors and sprays for optimal coverage and minimal water waste. High water pressure can cause standard sprays and rotors to emit water as a fine mist which easily drifts away rather than landing where it should — on the turf. Sprays and rotors with in-stem pressure regulation ensure that water is emitted at the proper pressure, saving approximately one gallon per minute per rotor or spray.
3. Install high-efficiency nozzles designed to tackle real-world conditions. Not all nozzles are created equal. A high-efficiency nozzle provides more uniform coverage and superior close-in watering, increasing efficiency and shortening run-times — even in windy conditions. Rotary nozzles are easily adjustable for design flexibility while still offering a low precipitation rate and highly uniform distribution.
4. Install sprays and rotors with check valves to reduce run-off and improve aesthetics. Almost every landscape contains a few elevation changes, some significant enough to cause water to drain from the lower heads on the system. This can lead to harmful flooding, erosion and wasted water. Certain models of sprays and rotors feature built-in "SAM" (Seal-a-Matic) check valves that eliminate drainage from heads located at the base of slopes or hillsides.
5. Install drip irrigation to promote healthier plants with less water. When it comes to watering individual trees, flower beds, potted containers or other non-grassy areas, you simply can't beat the efficiency — and convenience — of low-volume drip irrigation. By delivering water to plant roots where it's most needed, drip irrigation keeps plants looking their best, reduces water waste through evaporation or runoff and keeps weeds from growing.
6. Conduct routine maintenance before and after the summer watering season. – up run times/lower run times, review zones, etc. At the beginning and end of the hottest season, check your clients' systems to make sure everything is working properly. Over time, a misaligned head, clogged head or torn line can waste thousands of gallons of water and wreak havoc on landscapes and water bills. During these maintenance visits, review each system's watering schedule to increase or decrease zone runtimes. It's also important to examine the system's layout and determine whether zones need to be modified due to changes in the landscape, like a new flowerbed or patio.