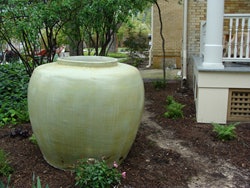 Big Grass has expanded its Ong jar rainwater harvesting collection to help meet the growing demand for water conservation solutions.
The company has rolled out its 115-gallon Mini Ong to wholesale and retail customers nationwide.
The Mini Ong has been added to Big Grass' existing 160- and 450-gallon Ong jars designed to collect rainwater from larger roof sections and air conditioning units. All Ong jars can be integrated into larger catchment systems.
The jar is handmade in Thailand from cement. The company stains and seals the Ong jars, and each vessel comes with hose faucet fittings, drain plugs and galvanized or decorative hardwood tops for customized downspout penetration.