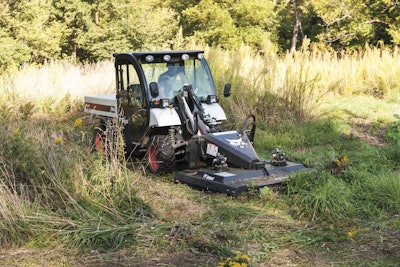 To help tackle tough cutting jobs this season, the Bobcat Company has introduced the Brushcat rotary cutter attachment.
The attachments are designed to help cut overgrown grass, brush and small trees, as well as transform undergrowth into mulch.
Featuring a shortened deck for better visibility, the attachments include an oscillating deck to follow the ground surface. The deck allows the rotary cutter to closely follow ground contours, even on slopes. Front roller kits are also available as a dealer-installed option.
With a tight turning radius, the attachment comes in five models and has a standard three-inch cutting height.
An optional dealer-installed kit can be added to increase the cutting height to four inches.
With varying auxiliary hydraulic flow capabilities, the cutters are compatible with Bobcat carriers with hydraulic flows ranging from 15 to 40 gpm, depending on the model.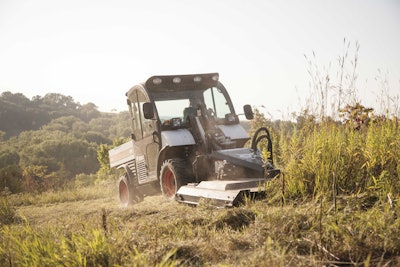 Rotary cutter models include standard flow or high-flow capability options in 66- and 72-inch widths, and an 80-inch model with high-flow capability.
To help reduce weight and shorten the deck size, the cutters are equipped with two direct-drive, offset motors that feature a dual-blade design.
The direct-drive motor design means there are fewer moving parts and no gearbox. The rotary cutter's dual motors efficiently transfer power to the blades to quickly cut through brush. Four blades are positioned with a one-and-a-half-inch overlap.
If one blade comes in contact with excessively heavy brush, additional pressure is applied to that area to help the motor and blades recover faster. The rotary cutter's double-edge blades can achieve bidirectional cutter rotation by switching the cutter heads.
Front safety chains on the rotary cutter help contain debris within the deck and prevent it from being thrown outside the cutting area. The tapered roller on the rear of the rotary cutter prevents debris from flying out of the back of the cutting deck.
As a safeguard, a velocity fuse was integrated into the hydraulic system valve on the standard-flow models. This fuse protects the drive motor from damage by shutting off the hydraulic flow to the rotary cutter if the hydraulic capacity of the motor is exceeded. For additional safety, a blade shutoff feature stops blade rotation when the rear roller of the rotary cutter is raised off the ground.
The cutters are approved for use with select Bobcat skid steers, compact track loaders, all-wheel steer loaders, Toolcat utility work machines and the V417 VersaHandler telescopic tool carrier.