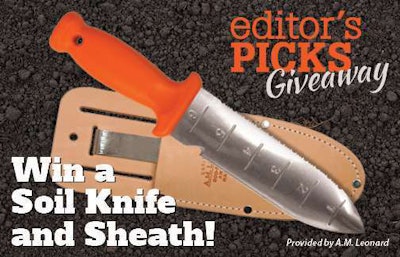 As the landscaping season kicks off, landscapers always need to have the right equipment for the right job.
To help, Total Landscape Care has launched a new Editor's Picks Giveaway.
You could be one of seven winners to take home A.M. Leonard's deluxe soil knife and sheath.
The knife can divide plants, uproot weeds, plant bulbs, cut twine, remove rocks and more.
The knife features a stainless steel blade, which is 1 ¾ inches wide and has a deeply serrated edge for root cutting. Engineered to withstand more than 300 pounds of pressure, the blade is 6 inches long.
The deadline is June 18 and enter daily to increase your chance of winning. Remember, only seven will win!