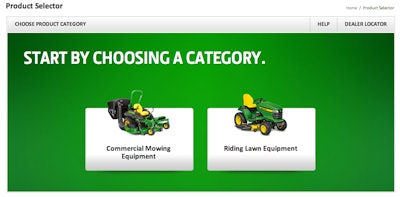 John Deere launched an online tool to help professional landscape contractors research equipment.
The Product Selector Tool allows landscapers to research commercial mowing equipment that best fits their needs.
Landscapers can choose from 44 John Deere commercial mowing offerings and start by answering a few questions about the property they maintain or filter models by the specifications needed, including operator position, tasks, cutting width, fuel preference and discharge preference.
After the questions are answered, the tool will sort through all of the mowers and provide a recommendation on the best mower options.
After using the tool and researching equipment, landscapers will be able to visit with local dealers to talk about financing options.