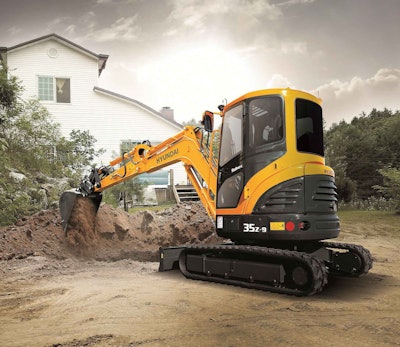 For tight and confined jobsites, Hyundai Construction Equipment Americas has introduced the R35Z-9 compact excavator.
Showcased at ConExpo in Las Vegas, Nevada, the R35Z-9 has an operating weight of 8,050 pounds (3,650 kg) and is powered by a 26.5 horsepower (19.8 kW) Tier 4 certified Yanmar 3TNV88 engine.
Featuring a dig depth of 10 feet 4 inches, the compact excavator has a bucket digging force of 7,040 foot pounds (31.4 kN) and a bucket capacity of 3.78 cubic feet (.107 cubic meters). The offers a tail-swing radius of 2 feet 10 inches (870 mm).
Hyundai provided optimized matching between the joystick and main control valve to help operation. An arm flow summation system provides energy savings, as well as reduced cavitation and increased speed. To help with safety, the machine is equipped with an integrated boom holding system.
Because of a customizable operator's station, the user can set their operating preferences to meet particular needs. Some of the options include an adjustable seat and wrist rest settings, as well as foldable pedals.
The monitoring system provides the operator with machine status information including engine oil pressure, battery charge, engine coolant temperature and a fuel gauge.