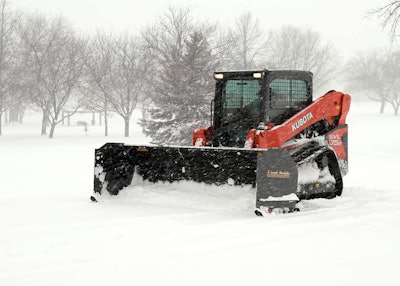 A variety of equipment is rolling off the line at Land Pride.
The company introduced two models of snow pushers, as well as four skid grapples.
The SSP15 and SSP25 Snow Pushers are available in three sizes to fit skid steers or tractor loaders.
The 15 Series is manufactured with a 30-inch, 10 gauge moldboard and ¼-inch side panels with three models available in 72-, 84- and 96-inches.
The 25 Series is a step up with a 3/16-inch thick, 35-inch high moldboard, 5/16-inch side panels and is available in 96-inch, 10-, and 12-foot widths.
All models come equipped with AR400 skid shoes that are adjustable, reversible and replaceable.
The SSP mounts use the universal Quick-Attach plate and feature an 8-inch rubber wear edge.
The four skid grapples come in 12 different sizes.
SGC15 Series Claw Grapple – The Claw Grapple features a 6-x6-inch frame tube for strength and serrated teeth. It is available in 60-, 72- and 84-inch widths.
SGM15 Series Manure Grapple – The Manure Grapple is available in four widths from 60- to 78-inches with eight to 10 spears.
SGR15 Series Rock Grapple – The Rock Grapple features dual hydraulic cylinders to grasp uneven loads, and 3-inch spacing between the teeth to sift smaller debris. The tool is available in 66-, 72- and 78-inch widths.
SGS15 Series Skeleton Grapple – The Skeleton Grapple is similar to the Rock Grapple, and this unit is available in 66- and 78-inch widths but features 5-inch spacing between tines. It also employs dual hydraulic cylinders for handling uneven loads.