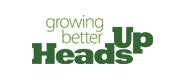 Heads Up Landscape Contractors has welcomed 11 student interns from four different colleges for 12 weeks.
The students are studying business, landscape design, landscape management, horticulture and other disciplines.
"We've done the intern program for the last eight years," says Gary Mallory, CEO of Heads Up Landscape Contractors. "Each year we find the best and brightest business, landscape and horticulture students from around the country. We believe that landscape design, installation and maintenance can be a great career, and love helping students who are as passionate about 'growing better' as we are."
Interns from UNM Anderson School of Business are Monica Merker, Sullivan Sedneck, Amy Riker, Liz Nare, Edan Hemphill and S'lene Aguire. Adam Millis and Marlena Millis are from Brigham Young University – Idaho. Alan Rourke comes from Kansas State University, and Drake Johnson and Benjamin Warden attend Oklahoma State University.