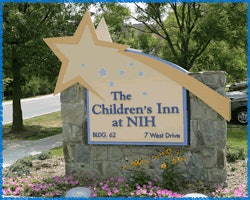 The Children's Inn at NIH's Play Park recently received an award from the Maryland Chapter of the American Society of Landscape Architects.
Mahan Rykiel Associates (MRA), the design firm for The Children's Inn at NIH's Play Park, was recognized with an Honor award.
The Children's Inn is a home away from home for pediatric patients with their families at NIH.
The Play Park project involved redeveloping an outdoor space for these patients, their siblings, and caregivers – accommodating active and passive functions, creating play areas for a variety of age groups and providing respite space for families and staff.
The project included solving drainage problems and reducing the grade change between the outdoor area and the building. This provided the opportunity to redesign the play space.
The American Society of Landscape Architects' Awards Program serves to encourage professional excellence in Maryland by recognizing completed and un-built landscape architectural projects.
The objective is to bring public attention to the services of landscape architects by honoring them with professional awards for projects that demonstrate quality of design and execution. The award was selected by a jury of peers and presented at an awards ceremony in Baltimore in April.