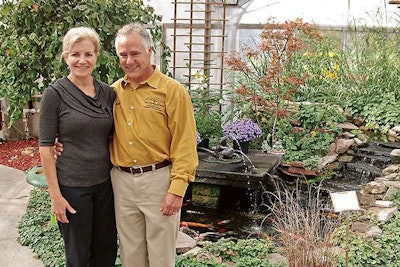 Marketing tools, dedicated employees and landscapers' faith have been the keys to business growth
One of the smallest of its kind, the mustard seed's size is mentioned several times in the Bible's New Testament. "If you have the faith as small as a mustard seed … nothing will be impossible for you," Matthew 17:20 NIV.
So for faithful landscapers Mark and Kay Halla, naming their company after this parable seemed to encompass their beliefs and business practices.
"We're seed planters," Mark says. "We're The Mustard Seed."
Started in 2003, The Mustard Seed Landscaping & Garden Centers is located in Chaska, Minnesota, which is about 30 miles southwest of Minneapolis. They offer landscape design/build, site planning, over-wintering of Koi fish and maintenance of shrubs, trees, perennials and annuals.
The couple, married 27 years with two children, provide a good balance to the company. Mark has been in the industry for 29 years, having worked for his father's landscape company before starting one of his own. Kay, who studied landscape architecture and forestry in college, works as one of the company's designers. (To read how The Mustard Seed got its start, check out the company's backstory.)
In addition to offering landscape services, the company also has two garden centers that sell lawn chemicals, yard art and other homeowner products. Having the garden center also gives their customers the opportunity to come and pick out the plants for their projects.
The main store even has a petting zoo with chickens, roosters, donkeys and goats, along with a playground to entertain customers' children. "We want to capture that generation of children so they think kindly of us," Mark says.
Marketing matters
Spreading the word about their business is nothing new for the Hallas. They even ramped up promotions when the market took a hit – doubling their marketing budget during the recession. "I'm very analytical, so I had to plan ahead – which helped during the recession," Mark says.
From online to print media, The Mustard Seed constantly looks for new ways to reach potential clients. "If anyone thinks of landscaping, we want our name to be in the mix," he says.
When someone moves into the area, The Mustard Seed sends out personalized letters and coupons for the garden centers. To give residents a firsthand look at their work, they place a company sign in their client's yard, and they leave it there until after everything is complete. They also pay for ads in local publications to help drive traffic to their website.
Once someone reaches their site, they can view project photos, information on their garden centers, photos and bios on their staff, their mission statement and other information that describes the company.
Throughout the year, they offer coupons on their website, like one for $50 off a consultation design fee – which normally is $100. They also ask people visiting their site how they heard of The Mustard Seed and use that information for their strategic data to see what is working the best.
Furthering their digital reach, Mark sends e-newsletters, posts on social media and holds giveaways. "You have to look at it like what's the return on investment," he says. "Facebook really reaches our core audience. Our marketing is about being relational."
And in one of the garden centers, they have an iPad set up for people to answer survey questions for a chance to win a prize. Users must first log into their Facebook account, and after they take the survey, a photo of the store posts to their page showing they were at the garden center. "This helps us reach these people's friends," Mark says. "What a great way to capture all of those email addresses – it's a good marketing tool."
Although their digital efforts have been helping to expand their reach, word of mouth continues to bring in the majority of their business. About 24-percent of The Mustard Seed's business comes from these referrals, and there's close to a 100-percent close rate, Mark says.
Setting themselves apart
But before a client refers The Mustard Seed, they need to trust the company and its staff – and building relationships is one of the Hallas' top priorities.
"At the center of everything should be your relationships," Kay says. "If you focus on relationships, you will have bigger results, instead of the other way around."
"Our faith sets us apart," Mark adds. "We are here for such a short time, and we aren't going to be remembered for our work: We're going to be remembered for our relationships."
So from the garden centers to the jobsite, it's evident Mark and Kay care about their clients and projects.
"They just have a lot of integrity," says Greer Hussey, one of their clients. "They have the expertise, too, but they also really care about their clients. There's a million people who can do what they do, but it's their personal integrity that sets them apart."
Even The Mustard Seed's employees are on board with these principles. "We put relationships first, instead of results," says Cory Whitmer, who joined the team in 2004 as a partner.
While most landscapers up north are closing their doors for the winter, the Hallas actually use this time to reach a different audience. They have offered Christmas tree packages, similar to Groupon, to sell Christmas trees and get people into the garden centers.
They also offer field trips to the center for children where they have live reindeer, elves (Mark) and Santa. While the students are there, the staff gives them brochures to color, and if they bring those colored sheets back into the shop at another time, they get free honey sticks. Since this requires the parents to bring them, it's just another way they attract people to their store and show the community they care.
Best assets
Building strong relationships isn't only reserved for clients, however. The Hallas also invest their time and resources into their 47 employees.
When they hire a new employee, they base their decision more on the candidate's personality, instead of their industry knowledge. "If they have a good heart and are willing to learn, you can teach them anything," Mark says.
View more project photos from the Hallas.
But hiring the right staff members can also be a struggle, he continues. "It takes a while to get to know them. Sometimes it's difficult to tell them the truth without making them fearful of losing their job," Mark explains. To help with this process, they hold meetings for employees to teach them how to excel at their jobs – such as how they should interact with customers in the garden centers and on the jobsite.
"People are your best assets, but they are also some of the most difficult," Mark says. "You need to understand how God has uniquely wired them."
What's next?
While they have already built a thriving company, which had $1.85 million in annual revenue last year, the couple continually wants it to expand and improve.
Going forward, Kay says she would like for them to grow more in the nursery – something that can keep employees busy during the winter months.
Mark says he wants to look into subcontracting lawn maintenance services, something they don't currently offer.
But no matter the company's size or list of services, one thing's clear: Nothing is impossible for this mustard seed.
Read the Hallas' five keys to success, and to see more project photos from the Hallas, visit the gallery.