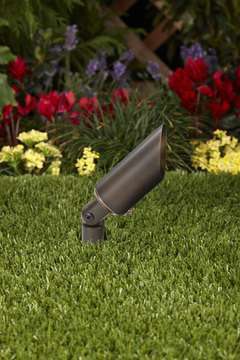 Vista Professional Outdoor Lighting introduced a fixture that combines brass and composite materials for landscapes.
The 2106 Up & Accent Luminaire features a heavy-gauge brass body and a milled brass base.
The composite knuckle is corrosion resistant, which helps in humid or coastal areas. The knuckle also features a polyester powder-painted finish to match the brass fixture and isolate the metal from the soil.
Additionally, an oversized silicone O-ring provides protection against dust and moisture penetration.
The luminaire ships with a factory-fitted Vista thermo-composite LED MR-16 lamp with two available power levels and four optic patterns.
The light also comes ready to install and comes with specified mounting accessory and silicone-filled wire nuts, as well as a high-temperature silicone diaphragm gasket.
The fixtures are compatible with lenses and louvers either installed at Vista's Simi Valley factory or in the field.