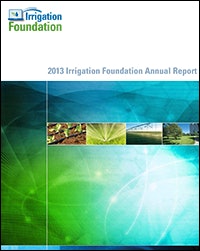 The Irrigation Foundation has released its 2013 Annual Report detailing initiatives and accomplishments throughout the year.
In 2013, the Irrigation Foundation revised its strategic plan to better align with its mission to attract people to careers in irrigation.
Some of the Foundation's notable accomplishments in 2013 included:
Sending a record number of 15 students and educators to the 2013 Irrigation Show & Education Conference as part of the Irrigation E3 Program.
Subsidizing housing for six irrigation students who gained hands-on industry experience during a 12-week summer internship.
Doubling the number of Irrigation Career Link job views and featuring positions in more than 15 states.
Helping offset travel expenses for 22 educators from 20 colleges to attend the 2013 Irrigation Faculty Academy.
Recognizing Cathie Lavis, PhD, CID, CLIA, as the 2013 Excellence in Education Award recipient.
Connecting with 30 agricultural educators at the National Future Farmers of America Convention to help them and their students understand the role of water on the farm and in landscapes.
The report is available for download for all IA members.