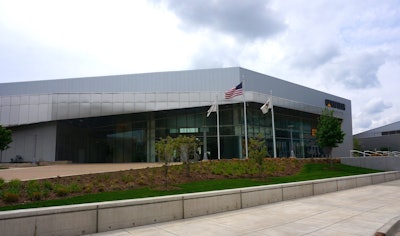 If you're in the construction industry or are a person who appreciates the fine art of heavy equipment, make a visit to the Caterpillar Visitors Center in Peoria, Illinois a priority.
Even if you ever find yourself in the Chicago area, the two-and-a-half-hour drive southeast to Cat's home base is well worth it to see the ode to yellow iron the company has put together.
Caterpillar opened the 50,000 square-foot facility less than two years ago and the centerpiece and first stop on a tour is a 797 mining truck whose bed contains a theater where you'll be treated to an introductory video complemented by a phenomenal picture, audio system and even rumble seats.
Beyond the theater, the place is packed with equipment both young and old as well as a ton of Caterpillar memorabilia and interactive displays from throughout the company's 89-year history.
Some of the exhibits include a 1928 Model Twenty tractor and the chance to try your hand at the controls of a 1930s D8 tractor.
The facility is staffed with knowledgable staff to answer any questions you may have, including several retired company veterans whose love for and knowledge of the company is apparent as soon as they greet you at the door. Until you're able to go yourself, we've put together a photo gallery of the building you can click through below.
Editor's Note: Wayne Grayson is the Online Editor for sister site Equipment World.