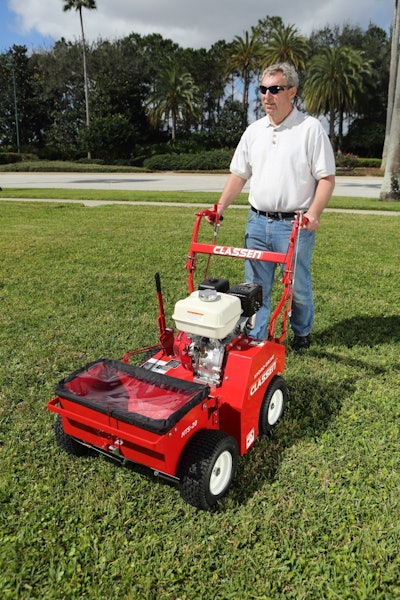 Featuring a floating seed box that contours to the terrain, Classen's Hydro Overseeder has been designed to be precise.
The Hydro Overseeder drops seed over 26 heat-treated blades that produce 13 rows of planted seed in a 20-inch swath.
The precision of the seed drop and the close proximity of seed rows thicken existing turf through double planting while filling in balding or thinning turf areas with carpet-like seed coverage. The result is thicker turf that is more resistant to weeds and disease.
The seeder features a 40-pound capacity seed box that can either float or lock in place at of the 10 depth settings.
Powered by a Honda GX270 engine, the seeder features a Hydro-Gear T2 transmission that produces an operating speed of up to 3mph forward and 1.5 mph in reverse.
Additionally, the seeder includes 13-inch floatation turf tread tires for traction while dispersing unit weight evenly.
Blade engagement and single lever forward/reverse controls are located on the handles. A seed dial with 10 settings provides seed flow while a seed drop flag lets you know when seed is dropping and when it has stopped.
Specifications
Model Number: HTS-20H
Engine: Honda GX270
Displacement: 270cc
Transmission: Hydrostatic, Hydro-Gear T2
Seeding Width: 20″
Seeding Depth: Float/lock-in, 10 setting adjustable 0″-1.625″
Unit Width: 31″
Unit Length w/handle up/folded: 57″/45.75″
Unit Height w/handle up/folded: 45″/33″
Unit Weight: 300 lbs.
Ground Speed FWD/REV: 3 mph/1.5 mph
Productivity: 26,400 sq. ft. /hr.
Seed Hopper: 40 lb. capacity, removable seed cover
Number of blades: 26 (13 double-bladed shafts)
Row Spacing: 1.5″
Wheels: Front/Rear 13″ x 5.00-6″