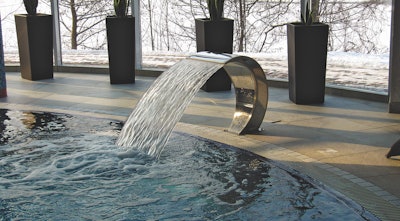 AQA introduced a handcrafted waterfall spout to add to landscape designs.
The Curved Sheer Descent Spout can be used in residential pools, spas, hydrotherapy and wellness centers, as well as landscapes.
The Model 106 spouts are handmade from 316L surgical-grade stainless steel and are handmade in Spain.
Artisans in Spain create each spout by hand-rolling individual pieces of steel.
The Curved Sheer Descent's sister spout, Model 106A, features the same curved design but includes individual jets to create a "spray" effect.
The Curved Sheer Descent Spout is available in polished stainless, brushed stainless or a combination of the two finishes.
Both model versions of the spout (106 and 106A) are available in four standard widths, including 300 mm (11.8 inches), 500 mm (19.7 inches), 700 mm (27.6 inches) and 1,000 mm (39.4 inches).