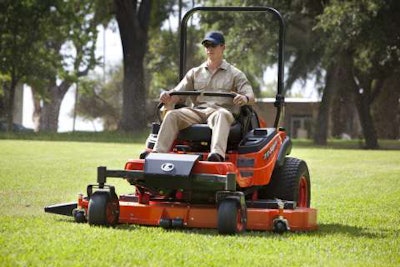 Adding to its zero-turn lineup, the Kubota Tractor Corporation has introduced the ZD326H zero-turn mower to its Z300 Series.
The diesel model has a newly designed 72-inch shaft driven commercial mower deck. The deck was specifically designed to increase power and efficiency while cutting.
The welded deck is six inches deep and features a baffle design for cutting, while maintaining sufficient airflow for even spread of clippings.
The cutting height can be adjusted from one to five inches in .25 increments.
The ZD326H includes a greater engine displacement of 1123 cubic centimeters, which delivers more torque to cut large areas.
Additionally, the model features a 26-horsepower liquid-cooled Kubota diesel engine and a twin hydrostatic transmission (HST) with a wet-type power-take-off clutch.
To help with operator comfort, the model includes a high-back suspension seat, hydraulic deck lift and a hands-free parking brake on an operator platform.
As far as maintenance, the mower includes an integrated hydraulic maintenance lift and semi-pneumatic "flat-free" front caster tires, as well as a 12.9-gallon fuel tank capacity.