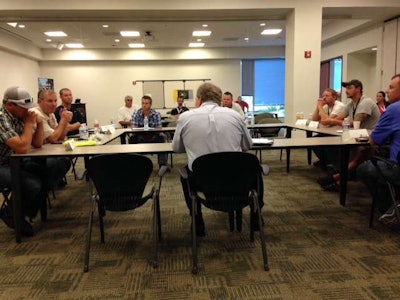 Last week, landscapers from across the country and Canada flew to Cary, North Carolina, to operate and learn more about John Deere equipment and services, as well as share how they run their businesses.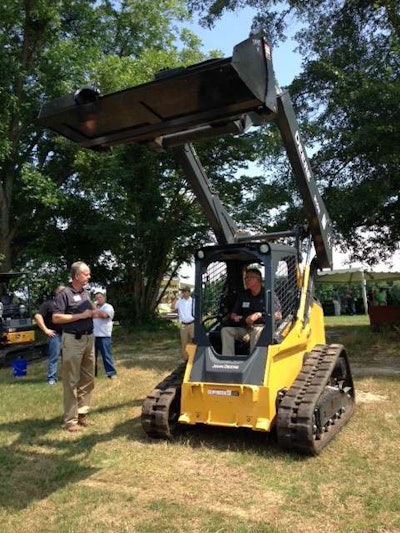 After a tour of the 335,325-square-foot factory, the landscapers enjoyed some ride-and-drive time on mowers, tractors, excavators, compact track loaders and Gators.
On the second day of this two-day event, the landscapers came together for a roundtable discussion.
Topics for discussion included the future of landscaping, challenges and adjustments they've made to their business since 2008.
For Jason Martin of Martin Lawn Inc., perimeter pest control has helped his business. Others said they use hardscape projects to tie them over during down times, especially in the colder months.
John Thorpe, The JBoys Inc., started charging fuel surcharges (from 25 to 50 cents) when the recession hit. "Our customers were OK with it," he says.
As far as challenges go, most said their No. 1 issue is finding employees with valid drivers' licenses.
To help with this problem, Paul Schnarr of Clintar Groundskeeping keeps a points system with his drivers. If they get tickets or have accidents, they lose points, which could result in losing their job or other actions.
To promote their services, Norman Rohfeld, Erie Landscaping Company, just started doing print ads, and they also put project photos on Facebook. But, their top form of marketing comes from word-of-mouth referrals. They attend Chamber of Commerce meetings where the meet many residents and have found new accounts.
See more photos from the event and watch a video of the Deere 50G excavator walk around below.
[youtube Pzpsq9uhy8E nolink]