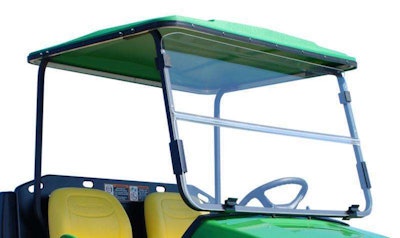 Curtis Industries has announced its release of its canopy and folding windshield for John Deere Gator TS, TX and TE model UTVs.
The canopy is constructed of molded high-density polyethylene, and aluminum support tubes mount directly to the Gator chassis bracket for strength and stability. No drilling is required.
The front canopy frame is secured in a 13-inch reinforcing channel to reduce movement and help prevent cracks and squeaks. The 
canopy installs in about one hour.
The folding, removable windshield opens for added ventilation and visibility and is made from impact-modified acrylic.
Additionally, the windshield secures in place with rubber latches and can be removed without tools.